Expert Diaper Changing Tips from Real Moms
Posted by The Snug Bug on February 01, 2015
Changing diapers is one of those tasks you will do many times a day for years. If you ask any parent, they'll tell you that diapering is not their favorite activity, but it is a fact of life, so get it done and get on with your day. We've received a lot of interesting tips from moms that we haven't read anywhere else. Whatever makes your life as a mom or dad easier is valuable information, so we wanted to share. We also want to hear from you!
Of course, the most helpful tip is to be prepared and organized. It makes your life SO MUCH EASIER. This does not mean investing in a lot of expensive gear. Your tools just need to be simple and efficient to get the job done.
1. CHANGING STATIONS vs. THE CHANGING TABLE
Every Pinterest nursery has a lovely changing table with a matching cover that really ties the room together. And while some moms love their changing stations, others find them to be more trouble than they're worth.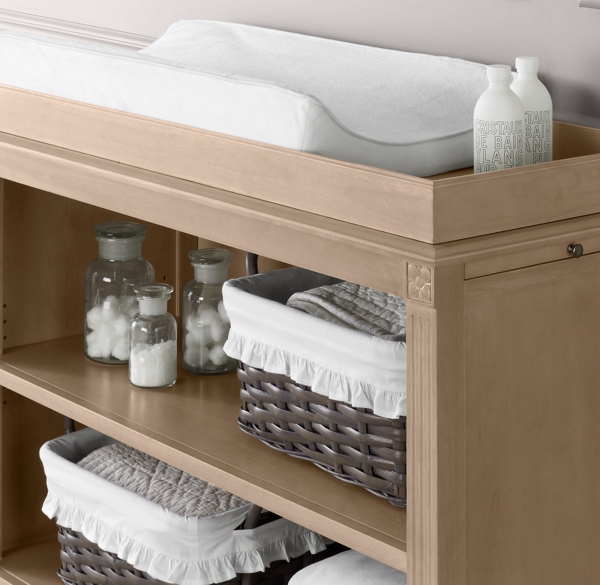 • A cute cover must be washed often and will soon need to be replaced because the stains won't come out.
• Your baby will outgrow that expensive piece of furniture in a few months. If you live in a small apartment, it can take up valuable real estate while gathering dust.
• Once baby can turn over, you must keep one hand on her at all times so she doesn't roll off the table! Changing on the carpet or something large like a bed prevents such accidents.
• Unless you spend all of your time in the nursery, the changing station is never where you need it. You have to pick up baby from whatever he's doing and take him to the changing table. If you have another child who can't be left alone, you need to drag her with you too. So now you have two grumpy kids to contend with while you change.
Heather recommends saving money on the changing table and investing instead in diaper caddies or kits, filled with all of the diaper changing essentials: five or six diapers, a package of wipes, tushie cream of choice, changing pad, and a distraction toy. "You can get those cute baskets or caddies, but you could also use a recycled gift bag, freebie makeup bag, or whatever you have on hand, nothing fancy. You'll need them anyway once your baby outgrows the table. Upstairs, downstairs, playroom, living room, bathroom, glove box or trunk, stroller, Grandma's house, etc. Stash them where changes happen frequently for you and you have as many changing stations as you need."
2. THE ART OF DISTRACTION
Magicians use distraction to pull off their tricks. You can do the same with diapering. Hand your child a toy or let her pull apart a tissue, anything to keep her focus on something else leads to less wiggling and struggle. Sarah's tip is, "When you are refilling your caddies at home, switch out the toy so it always stays fresh and special. If baby gets to play with a special toy just for changes, he will be a lot more cooperative."
3. WATERPROOF & WIPEABLE
Waterproof is key when dealing with liquids and messes. Seems like a no-brainer, but it is very hard to find. That cute diaper pad with the minky cover can only survive one accident before it goes in the laundry. If you're out and about with a fabric travel pad, you'll be praying that you don't need it again after your baby pees on it. Your changing gear should ALWAYS be ready. Wipe it down, roll it up, and it's ready for next time.
Andrea wrote, "I bought your waterproof pad for my husband because when he took our son out to the park and had to change diapers, we had a mat that was flannel on one side and my son peed all over it as will happen sometimes with boys. Rather than fold up the wet mat and put it back in his bag to wash at home he *threw it away*! He said there was no way he was going to walk around with something soaked in pee because that's disgusting. And when I thought about it, it really is gross."
4. A BACKUP PLAN
All the experts tell you to keep a change of clothes for baby with you, just in case. But Jana learned the hard way and now keeps a change of clothes for herself in the trunk. She also adds, "Once you have removed the diaper, get it out of reach of the baby immediately! Trust me!!" Also keep larger/multiple packs of wipes and a roll of paper towels in there for those big accidents.
5. MULTI-TASKERS
Multi-taskers are essential for your diaper bag and at home. Becky still carries burp cloths or receiving blankets long after their intended use. They can be used to clean up after a snack, wipe down your toddler after the park, or for sticky hands and faces. They also work in your diapering kit to lay down on your waterproof pad if it's a chilly night or as a pillow for baby's head. "My son will kick and struggle while getting his diaper changed unless he has a pillow. Getting those pads with the pillow sewn in are ridiculous. I just fold up his blankie and put it under his head and he calms right down." In this photo, dapper Finn has an Organic Swaddle Blanket for his pillow and he's happy as a clam.
6. ALL-IN-ONE CHANGING KITS
We'll admit that we're not fans of the all-in-one changing clutch. We have never seen one that is high quality or that doesn't take up too much room in the diaper bag. They sound like a great idea, but when you have to contend with unzipping pockets that are hanging over the side, or stitching right though the middle that causes leaks, or just a couple of diapers and some wipes inside create this huge monstrosity that is as large as a your child, then it's just more work for mom. A small clutch bag and your mat is all you need.
7. CHANGING ON A PLANE: THE ULTIMATE CHALLENGE
Airplane bathrooms are tiny, but at least one on every plane has a pull down changing station. Ask the flight attendant in advance which stalls have it. Megan says, "Take only what you need with you into the bathroom and nothing you don't. They are tiny so you won't have room for your diaper bag." She prepacks a ziplock with just a few diapers, wipes, travel size cream and her mat. "I'm able to find it by feel in my bag. My baby doesn't need a toy in the plane bathroom because there's already enough to look at. Compact is key."
8. MOM NINJA
Sometimes when you're out and about, there isn't a changing station or even a bathroom. And if there is, they can be dirty or germy. Ninja Mom knows how to improvise. Mary says she uses her stroller instead. "I throw a swaddle on top for privacy and slip the pad underneath my baby." With a thin waterproof pad you can skip the changing station and change on the back seat of the car, in the carrier, or even while your babe is still cozy in her crib by unzipping the sleepsack and sliding the pad in. Genius!
NOW WE WANT YOUR TIPS AND STORIES!
To celebrate the launch of our new quilted Diaper Changing Pads, we are giving away ten pads so you can change diapers anywhere!
TO ENTER THE GIVEAWAY using the buttons you see on this post:
1. Share your favorite diapering items, ninja tips, or funny/horror stories.
2. Tweet these tips
3. Share this post on Facebook
4. Pin it to Pinerest
We'll contact the winners in March. Good luck!
diaper bag

diaper changing

giveaway

before the baby comes

travel with baby

airplane baby

waterproof diaper

roll up diaper pad

diaper caddy

changing table

changing station

every mom should know
comments powered by

Disqus
---